Morphing to what's wonderfully obscure
Published: First Quarter, 2007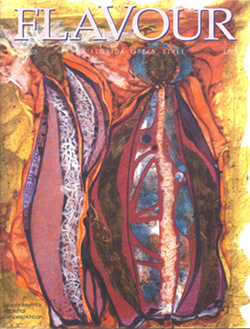 There was no doubt for a moment that Eleanor Merritt would become an artist – going back to the days when she doodled to relieve the boredom in kindergarten as she dreamed of expressing herself with line and color and texture.
But just as that was a certainty, what was also unequivocally clear was that she would have a career that would support the pursuit of her core ambition.
"My mother always taught us to make sure we have a 'real' job in order to help us to reach our dreams," said Merritt sitting with quiet confidence among her blooming orchids at her University Park home one recent Sunday morning.
"My real job was teaching, and now that I am retired I can reap the rewards of those years and really reach my dreams as an artist," she added.
Since the Harlem, N.Y., native moved to southwest Florida in 1980 she has truly blossomed, much like her orchids.
Almost every inch of her Manatee County home is a testament to art – from the dozens of masks that reach high up adorning the entryway walls to the body of her own work that charts her transformation over the years into an abstractionist.
And like the art teacher she is in retirement, the 74-year-old Merritt takes a certain regal delight in educating her guest about the museum like quality of her home.
"We used masks in ancient cultures to hide who we really were," she says, explaining her affinity to the 40- odd masks of wood, metal, leather and ceramic that embody a collection she has gathered during trips to Africa, Indonesia, Greece and China.
Mask-like images appear prominently in her work that's less realistic than in her early years and much more unreal and imaginative.
It's almost natural for her to paint in the current style that eschews the obvious, she says, because she was influenced by the likes of Ad Reinhardt, Mark Rothko, and Jimmy Ernst, abstract impressionists of the 1950s who taught at Brooklyn College City of New York, where the daughter of Jamaican immigrants received her bachelor's in fine arts.
Her work has a dreamy sensibility, but no matter how abstract it may seem at first glance, somewhere within lies the human form wonderfully obscured and masterfully altered for the discerning eye to pick up.
"I have always used figures as a point of reference in my work," Merritt said. Her pieces are layered these days with different materials that create a collage effect on the surface so it becomes textured, but she said, "No matter how abstract the composition may seem at first glance, looking further will reveal the figure and sometimes the message."
She loves nature but does not try to spend one precious moment trying to replicate it in her paintings. "Some people get my message, others are still looking for sunsets and palm trees. Their 'eye' has not matured enough to look beyond the obvious," Merritt pointed out. "I have been fortunate that through the years my work has been collected by many serious art lovers."
Those collectors are lucky because when they purchase a Merritt painting, they're getting an exclusive original for which there will be no prints or other commercial replications.
But that's not all. The beauty of a Merritt piece goes beyond the visually compelling and typically mono­ chromatic images. Her work is highly affordable even for the neophyte art lover. Prices range from $500 to $2,000.
"My style has developed through these many 50 years of painting," she said. "I think I have hit my stride now in terms of the ways in which I see the world. My work has nothing to do with reality ­ it has to do with what is in my head and how I can manipulate the paint to create the image that expresses that special thought."
And when she approaches the canvas, Merritt has no preconceived idea about what will spring from her creative imaginings. She's not working from a sketch or drawing.
"My images emerge from my subconscious/conscious mind and just explode on the working surface through the combined use of acrylics and other materials," Merritt said. "The concept emerges out of the paint now. I don't start with it in front of me. I start with the paint giving it to me. That's more exciting."
Merritt has had more than 25 one-woman shows and the next one starts May 25 for a 30-day run at Selby Gallery in Sarasota.